Next-Gen Network Access Control for the IoT Era.
Encompass IT Security Management and Operation
Genian NAC provides network surveillance and performs ongoing compliance checks to ensure that all connected devices are automatically identified, classified, authorized, and given policy-based access control. It also provides all the major features that network managers expect, such as IP Address Management (IPAM), Desktop Configuration Management, WLAN access control, automated IT security operation, IT asset management, and much more. Genians NAC provides both on-premise and cloud-based deployment options, providing for ease of deployment and ongoing management.
NETWORK SURVEILLANCE 
Device Platform Intelligence
Accurate Platform Detection
Cloud-based DB Improvement
Correlated Information
Network Node
IP/MAC Address
Switch Port
Wireless Access
Asset Management
Windows, MacOS Agent
Collect Desktop Information (OS, HW, SW, Peripheral)
Dynamic Grouping
Over 500 Conditions
Real-time Update
NETWORK ACCESS CONTROL
Multi-layered Access Control
Dynamic Group-based packet filtering
802.1x RADIUS Server
IPAM, DHCP Server
Switch Port Control
BYOD & Guest Management
Captive Portal
Authentication
On-demand Registration
Desktop Management
Desktop Configuration
Windows Update
External Device Management
Wireless Connection Manager
AUTOMATION
IT Workflow
Enrollment (Device, IP, User)
Multi-Step Approval Process
IT System Integration
3rd party Integration
Syslog Server
REST, SNMP Trap
LDAP/AD, RADIUS, RDBMS
Customization
REST/SOAP API
Custom Field
Custom Agent/Web Admin Plugin
High Availability
Active-Standby
Database Replication
The Components of Genian NAC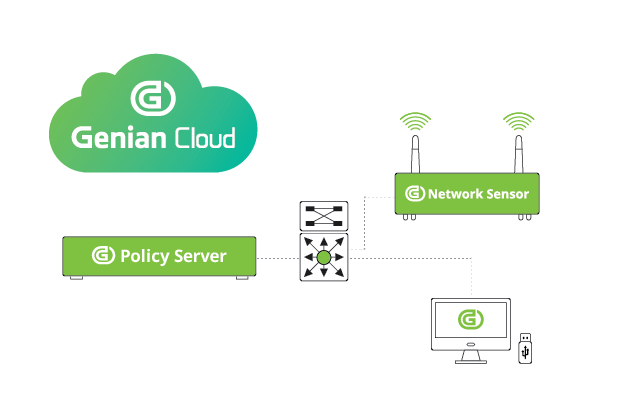 Uses L-2 based network sensors without adding complexity
Operates completely out-of-band
A brain (Policy Server) with two handymen (Network Sensor and Agent) can fortify your entire network without disrupting existing network configurations.
All components can go into a single server except the Agent. The Network Sensor can be separated from the Policy Server to manage remote sites and achieve extended Wireless visibility.
Agents can be used as Wireless Sensors as well.
Genian Cloud
Review and refine device platform information via the cloud
Deliver the most accurate up-to-date device platform information to Policy Server on a weekly basis
Policy Server
Establish security policies based on Node information collected by Network Sensors and Agents
Distribute established policies to Network Sensors and Agents
Communicate with Network Sensors and Agents to secure access control
Integrate with user database and third-party security solutions
Network Sensor
Collect Node Information from network
Apply (or enforce) established policies from Policy Server to targeted Node (or Node groups)
Detect all SSIDs by listening wifi signals
Identify who is accessing valid (enterprise-owned) APs, neighbor APs, or rogue APs
Support 802.1q Trunk Port
Agent (Optional)
Collect endpoint system information in detail
Execute policy enforcement as well as management tasks through the use of Plugins.
Operate as a Wireless Sensor to provide wider and more in-depth coverage to detect any possible Wifi activities such as Ad-hoc mode, SoftAP, and Tethering.
Over 170 features are being listed here so use a keyword to find out right features. For instance, windows, wireless, rogue, usb, etc.
* Cloud-managed version only supports the Basic and Professional editions
#
Feature
Description
Basic
Professional
Enterprise
1
General
1.1
Number of Devices Supported
Support up to 300,000 nodes for visibility and control
300,000
300,000
300,000
1.2
Number of Networks Supported
Support up to 20,000 segmented networks for visibility and control
20,000
20,000
20,000
1.3
Out-of-Band Configuration
Support out-of-band configuration for collecting node information and control network access
✓
✓
✓
1.4
Infrastructure Agnostic
Deploy without changing the existing network topology and configuration
✓
✓
✓
1.5
Manufacturer Agnostic
Operate without relying on vendor specific networking devices
✓
✓
✓
1.6
Single Management Console
Set up and operate all functions through a single management console
✓
✓
✓
1.7
Web-based Management Console
Provide a web-based management console
✓
✓
✓
1.8
Agentless Operation
Perform network access control functions without Agents
✓
✓
✓
1.9
Agent-based Operation
Collect detailed information (e.g. h/w, s/w, peripherals) of endpoint and control the desktop configuration using Agents
✓
✓
✓
1.1
Secure Communication
Exchange data through encrypted secure communications
✓
✓
✓
1.11
Failure Safe
Suspend its function to prevent network service outages in the event of a system failure
✓
✓
✓
1.12
High Availability
Provide a high availability configuration (Active-Standby)
✓
1.13
Custom Web/Agent Plugins
Provide a customization service (Web UI and Agent plugins)
✓
1.14
RESTful API
Provide a RESTful API to integrate with other systems
✓
2
Node Visibility
2.1
Realtime Detection
Detect devices connecting to the network in real time
✓
✓
✓
2.2
Layer 2 Network Sensor
Monitor network activities (e.g. ARP, DHCP, etc.) at Layer 2
✓
✓
✓
2.3
Support 802.1Q Trunk Port
Support 802.1Q VLAN trunk port to manage multiple VLANs
✓
✓
✓
2.4
Support Channel Bonding
Provide channel bonding or link aggregation for connection to redundant switches
✓
2.5
Node Information
Provide detail information of detected nodes (e.g. IP, MAC, NIC vendor, connectivity, authentication, etc.)
✓
✓
✓
2.6
Domain/Hostname Detection
Detect the NetBIOS domain/hostname of the network node
✓
✓
✓
2.7
OpenPort Scanning
Detect any devices scanning Open Ports
✓
✓
✓
2.8
Service Detection
Detect network services such as DHCP, SMB, DNS, SMTP, TELNET, HTTP, HTTPS and SNMP provided by network node
✓
✓
✓
2.9
Node Activity Monitoring
Provide node status information (system up / down), which is updated within 1 minute if status changes
✓
✓
✓
2.1
Platform Detection
Detect device platform information (e.g. type, manufacturer and model information, etc.)
✓
✓
✓
2.11
Platform Business Information
Provide information about the status of platform manufacturer (out of business, acquisition) and product (EOL, EOS)
✓
✓
✓
2.12
Update Platform Database
Automatically update the latest platform information at least once a week
Monthly
✓
✓
2.13
Unknown/Wrong Platform Report
Provide the reporting capability (manual or automated) for any information detected incorrectly
✓
✓
✓
2.14
Node Tagging
Create tags, set them on nodes, and release them when necessary. Establish policy via tags.
✓
✓
✓
2.15
DHCP Detection
Provide a monitoring function to identify that the network node has been assigned IP through DHCP
✓
✓
✓
2.16
Dynamic Grouping
Set conditions for nodes requiring access control and provide ability to automatically classify nodes that meet those conditions. Conditions must be definable for all items collected by the NAC system.
✓
✓
✓
2.17
Custom Fields
Create fields that allow administrator to enter custom data for each node
✓
3
Network Visibility
3.1
Switch Information
Provide the link status, duplex, speed, utilization, security setting, and 802.1X configuration information of the switch and each port through SNMP integration
✓
✓
✓
3.2
Connected Switch Port
Provide the switch name and port information to which the node is connected
✓
✓
✓
3.3
Switch Port Description
Change the description of the switch port via SNMP
✓
✓
3.4
Switch Port Shutdown
Execute administrative shutdown of the switch port via SNMP
✓
✓
3.5
Switch Auto Detection
Automatically register the switch using the node SNMP service detection information
✓
✓
✓
3.6
WLAN Detection
Detect neighbors' Access Point information in real time through network sensors and agents
✓
✓
✓
3.7
WLAN Information
Provide SSID, security setting, channel, signal strength, location, and detection time information for the detected wireless LAN Access Point
✓
✓
✓
3.8
Internal WLAN Detection
Automatically detect that the access point is connected to the internal network
✓
✓
✓
3.9
WLAN Connection Monitoring
Provide a list of stations that are connected to the Access Point and be able to identify which stations are known on the internal network
✓
✓
✓
3.1
Rogue AP Detection
Identify any Access Points not acknowledged by network administrator
✓
✓
✓
3.11
Physical Location Tracking
Discover the physical location of AP
✓
✓
✓
3.12
Wireless / Wired Device Mapping
Provide wired-LAN information of the device providing the wireless-LAN access point
✓
✓
✓
3.13
Wireless Network Sensor
Collect wireless LAN information through a network sensor equipped with a wireless LAN interface
✓
✓
✓
3.14
Wireless Agent Sensor
Collect wireless LAN information through an agent-installed PC with a wireless LAN interface
✓
✓
3.15
Risk Detection
Provide Layer 2-based risk detection (abnormal traffic), including:
- Invalid DHCP Server
- ARP Bomb
- ARP Spoofing
- MAC / IP Clone
- Port Scanning
✓
✓
4
Endpoint Visibility
4.1
Agent Support
Provide Windows and macOS Agents to present more details in real-time and control endpoint system cofiguration
✓
✓
✓
4.2
Windows Support
Provide Agent-based functions to Windows (XP or higher)
✓
✓
✓
4.3
macOS Support
Provide Agent-based functions to macOS 10.10 (Yosemite)
✓
✓
✓
4.4
OS Information
Provide the following information and detect any changes in real time:
- OS Name, Version, Service Pack, Language, Login User, Install Time
- Login Password, Screen Lock, IE Version, Shared Folder, etc.
✓
✓
✓
4.5
Hardware Information
Provide the following hardware information and detect any changes in real time:
- Motherboard, CPU, Memory, Storage, Network Interface Card, Battery, USB Device, Monitor, Printer, etc.
✓
✓
✓
4.6
Software Information
Provide software information and detect any changes in real time:
- Software name, version, path, date of installation, etc.
✓
✓
✓
4.7
Antivirus Information
Provide antivirus software information and detect any changes in real time:
- Antivirus name, version, Whether real-time monitoring is enabled, Latest update time, Latest scan time
✓
✓
✓
4.8
OS Update Information
Provide OS update information and detect any changes in real time:
- State of update installation, Installed update name, Settings of update service
✓
✓
✓
4.9
Periodic Check
Update the policy server only when changes occur in real time or periodically
✓
✓
✓
4.1
Periodic Custom Check
Provide the following options to check information periodically, based on your requirements:
- File presence, Hash, Date
- Process existence
- Registry key exists, value check
- Service presence
✓
✓
✓
4.11
WMI Support
Provide system information collection through the WMI interface
✓
✓
4.12
Ad-hoc Network Detection
Detect network interfaces that are not authorized by the administrator
✓
✓
4.13
Agent Download Page
Provide a custom webpage to download Agent
✓
✓
✓
4.14
Deploy Agent by GPO
Deploy Agent through a GPO in Active Directory
✓
4.15
Non Kernel-based Agent
Operate as a user-level application to minimize system malfunctions and performance impact
✓
✓
✓
4.16
Automated Upgrade
Automatically upgrade without user involvement
✓
✓
✓
4.17
Segmented Upgrade
Perform upgrades on segmented targets
✓
4.18
Authcode for Agent Deletion
Allow to delete Agent by only authorization code, which is provided by the administrator.
✓
✓
4.19
Hide Agent
Provide the following options to hide Agent:
- Agent installation
- Tray Icon
- List of installed software in Control Panel
✓
✓
✓
4.2
Self Protection
Prevent Agent being removed or terminated by the end user
✓
✓
✓
5
Network Access Control
5.1
Device Authentication
Provide device access control based on MAC address so that devices with unauthorized MAC addresses can connect to network after receiving administrator's authorization
✓
✓
5.2
Identity-based Access Control
Provide access control based on device identity, which will be measured by the following options:
- Node type
- Node platform name
- Authentication user of the node
- The host name of the node
- NIC Vendor of the node
✓
✓
5.3
Compliance Status-based Access Control
Provide access control if a device is not compliant. The compliance status will be measured by the following options:
- Required software install
- Antivirus s/w running
- Security settings, etc.
✓
✓
5.4
Role-based Access Grant
Establish a different access control policy based on the role of user and device, and grant access to appropriate network, service, and time zone by privilege
✓
✓
5.5
Real-time Policy Change
Update policies in real time
✓
✓
5.6
Captive Web Portal (CWP)
Redirect HTTP (or HTTPS) requests to a custom web page to be remediated or access to right network resources
✓
✓
5.7
Customizable CWP
Modify the messages and UI in the CWP
✓
✓
5.8
Custom Button
Customize the buttons in the CWP to meet your requirements. The options will be provided like below:
- External page link
- File download
- Pop-up window
✓
✓
5.9
Consent Page
Provide consent page including terms and conditions for users connecting to the network. In addition, get custom data from users during the onboarding process
✓
✓
5.1
Out-of-Band Enforcement
Provide out-of-band enforcement to prevent network service disruption in the event of a system malfunction
✓
✓
5.11
Layer 2 Enforcement
Provide Layer 2-based access control using ARP
✓
✓
5.12
Layer 3 Enforcement
Provide Layer 3-based access control using Mirrorring (SPAN) ports
✓
5.13
Switch Port Control
Control (shutdown) a switch port if non-compliant devices are connected
✓
5.14
Network Sensor Mode
Control Network Sensor mode: Monitor only or Policy Enforcement
✓
✓
5.15
Agent-based Access Control
Control endpoints' Network Inferface and power using Agent
✓
✓
6
User Authentication
6.1
Captive Portal-based Authentication
Provide user authentication through CWP
✓
✓
6.2
Agent-based Authentication
Provide user authentication through Agent
✓
✓
6.3
Password Strength
Provide the following password strength-setting features:
- Minimum/maximum length limit
- Do not reuse the same password
- Includes letters, numbers, and special characters
- Repeating character
- Numerical or alphabetical order
- Regular expression inspection
- Custom blacklist
✓
✓
6.4
Inactive User Lockout
Lockout inactive users for a certain period of time
✓
✓
6.5
Regular Password Change
Guide or enforce password changes at regular intervals
✓
✓
6.6
Temporary Password for New User
Provide temporary password functionality for new users. User can update their password after login
✓
✓
6.7
Two-Factor Authentication
Provide two-factor authentication via text message or email
✓
✓
6.8
Automatic Logout
Automatically log out after a certain period of time post-login
✓
✓
6.9
Automatic Logout for Inactivity
Automatically log out if there is no activity for a certain period of time post-login
✓
✓
6.1
Periodic Reauthentication
Re-authenticate users on a regular basis (Daily, Weekly, Monthly, Day of Week, Date, Time)
✓
✓
6.11
Authentication at Startup
Perform user authentication whenever the endpoint is restarted
✓
✓
6.12
Limit Maximum Authenticated Devices
Limit the maximum # of IP, MAC addresses, and devices that can be authenticated by a user at any given time
✓
✓
6.13
Local User Database
Provide user and group management capabilities
✓
✓
6.14
User Registration
Provide custom web pages for user registration. Set different management rules for super admin, sponsor, etc.
✓
6.15
Active Directory Integration
Read the Active Directory Domain User information through the Agent and replace it with the authenticated user of the node
✓
✓
6.16
Authentication Integration
Integrate with the following systems to get user authentication information:
- RDBMS Integration
- RADIUS Accounting Packet Integration
- Syslog Integration
- RESTful API Integration
✓
6.17
External User Directories
Support the following user directories:
- RADIUS Server
- POP3/IMAP
- SMTP (Google G Suite)
- Active Directory
- LDAP
✓
✓
6.18
User Database Synchronization
Sync up with the following user directories:
- RDBMS (Oracle, MSSQL, MySQL, PostgreSQL, DB2)
- LDAP
- CSV
✓
6.19
RADIUS Server
Provide PAP, CHAP authentication for external RADIUS clients
✓
6.2
MAC Authentication Bypass
Provide a MAC Authentication Bypass (MAB) function for non-802.1X-capable devices
✓
6.21
802.1X based Access Control
Support RADIUS EAP for 802.1X authentication services
✓
6.22
Supports Active Directory
Domain controller interworking provides 802.1X authentication through Active Directory
✓
6.23
Supports Webhook
Provides a Webhook function to check user credentials from external systems
✓
6.24
Supports EAP-GTC
Provides an EAP-GTC Supplicant module for Windows for 802.1X configuration using Legacy Password
✓
6.25
RADIUS Server Separation
Separates RADIUS Server Separation of remote access and user authentication
✓
7
IP Address Management
7.1
Real-time IP Usage Monitoring
Monitor current IP usage in real-time. (Used IP, unused IP, IP conflict, IP shortage)
✓
✓
✓
7.2
IP Usage Tracking
Keep the history of IP usages (past 12 months) and retrieve node information with IP address at a specific time if needed
✓
✓
✓
IP Matrix View
Manage IP usage through the Matrix View Table, where administrators are able to select and visualize the desired IP state
✓
✓
✓
7.3
IP Policy
Use only authorized IP through the IP policy in the network
✓
✓
7.4
IP/MAC Lifetime
Set the lifetime of an IP or MAC to be valid for a specific period of time
✓
✓
7.5
IP User Restriction
Specify which users can perform user authentication only on a specific IP
✓
✓
7.6
IP Conflict Prevention
Protect important IP's by enabling only an authorized MAC through the IP policy to use a specific IP. If an unauthorized MAC attempts to use a protected IP, it must provide a GARP response to prevent IP use. If an IP collision occurs, a detox ARP transmission function should be provided to minimize service interruption
✓
✓
7.7
IP Change Block
Restrict unauthorized IP changes by restricting the IP that a particular MAC device can use
✓
✓
7.8
DHCP Server
Provide a DHCP service that supports IP-helper addresses. For IP assignment requests, IP must be assigned only to authorized devices according to IP policies
✓
✓
7.9
IP Request / Approval
Provide IP request and approval system for unauthorized IP
✓
8
Endpoint Configuration Management
8.1
Enforce Antivirus Software
(Windows) Change the Antivirus software configuration for Windows machines
✓
8.2
Change Computer Name
(Windows) Change the computer name to the specified template format
✓
✓
8.3
Check Logon Password
(Windows) Provide password checking for local accounts, including:
- Same with Genian NAC password policy
- Password Age
✓
✓
8.4
Change Windows Settings
(Windows) Provide a security configuration function that includes:
- Disabling Guest Account
- Firewall
- Remote Desktop
- Autorun
- Internet Time Synchronization
- Scheduled Task for Windows XP
✓
✓
8.5
ARP Spoofing Protection
(Windows) Provide Static ARP management to prevent ARP spoofing
✓
✓
8.6
Control DNS
(Windows) Provide DNS configuration and hosts' file management
✓
✓
8.7
Control Folder Sharing
(Windows) Control the folder sharing settings
✓
✓
8.8
Control Application
(Windows) Install new applications or delete installed applications
✓
✓
8.9
Control Internet Options
(Windows) Provide Internet option configuration function that includes:
- Homepage
- Active-X related settings
- Proxy Server
✓
✓
8.1
Control Screen Lock
(Windows) Enforce screen lock-related settings
✓
✓
8.11
Multi-homed Control
Inspect PCs connected to multiple networks at the same time control the network interface connection according to specified conditions
✓
✓
8.12
Control WLAN
(Windows) Disable the wireless LAN interface or prohibit Soft AP operation
✓
✓
8.13
Control Process
(Windows) Terminate run of specified process(es)
✓
✓
8.14
User Notification
Provide users with the ability to deliver key events or manager messages via pop-up windows
✓
✓
8.15
Run Scripts
(Windows) Provide the ability to run batch files or VB Scripts set by the administrator
✓
8.16
Wireless Connection Manager
(Windows) Provide ability to provision profiles for wireless LAN connection and control SSIDs accessible through the whitelist
✓
9
Patch Management
9.1
Enforce Windows Update Settings
(Windows) Enforce Windows Update settings
✓
✓
9.2
Install Windows Updates
(Windows) Perform installation at a given point in time (immediately, at system shutdown, or designated time) for administrator approved updates
✓
✓
9.3
(Delayed) Automatic Approval
(Windows) Automatically approve immediately when new patches are released, or automatically approve after a certain period of time
✓
✓
9.4
Offline Windows Updates
(Windows) Install Windows Update on endpoints that do not have Internet connectivity. Provide software that downloads update files from an Internet-enabled environment and copies patches to the NAC system on the closed network
✓
9.5
Support WSUS
(Windows) Provide interoperability with the existing WSUS system
✓
9.6
Update File Cache Server
(Windows) Provide the update file cache function through the network sensor equipped with the HDD so that the network bandwidth usage can be reduced when downloading the update file of the sensor managed node
✓
10
External Device Control
10.1
Disabling Connected Device
(Windows) Provide a function to keep the device in a disabled state when connecting to a device by setting a block policy using Name, Class, Type, Description for the device connected to the system.
✓
✓
10.2
USB Device Control
(Windows) Establish policy through vendor, model, serial No. for devices connected through USB interface and to keep it in a disabled state when connected to the corresponding device.
✓
✓
10.3
Device Usage Request / Approval
(Windows) Provide the service to use a device for a specified period of time through the administrative approval process
✓
11
Audit and Report
11.1
Keep Logs
Retains a minimum of 12 months of audit records
✓
✓
✓
11.2
Searching Logs
Query and retrieve audit records through the management console
✓
✓
✓
11.3
Log Filter
Save specific search conditions and retrieve only the audit records that match those conditions
✓
✓
✓
11.4
Real-time Log Monitor
Monitor logs generated in real time
✓
✓
✓
11.5
Tagging Node Using Log Filter
Set tag on node where log is matched to a specific log filter, and provide the ability to change the policy when an event occurs
✓
✓
✓
11.6
Notification
Send an alarm to the administrator when an audit record meets a specific search condition
✓
✓
✓
11.7
Out-bound Integration
Integrate with the external system to share audit information that meet specific search conditions:
- Syslog
- SNMP Trap
- Webhook
✓
11.8
Syslog Server
Receive the syslog that occurred in the external system (e.g. FireEye) and set the tag of the node to apply the policy
✓
11.9
Receive SNMP traps
Receive the SNMP Trap generated from the external system, store it as an audit record, and provide the function to tag the node
✓
11.1
Default Reports
Provide the following basic reporting capabilities:
- Node Group trend
- WLAN Group trend
- Log volume trend by log filter
✓
✓
✓
11.11
Custom Reports
Provide the following custom report capabilities:
- Number of nodes
- Specific group trend
- Specific log trend
- Custom query result trend
✓
11.12
CSV Export
Provide the export function in CSV format for the data provided by the product
✓
✓
✓
12
Administration
12.1
Customizable Dashboard
Provide customizable dashboard functionality
✓
✓
✓
12.2
Personalized Dashboard
Provide a personalized dashboard for each administrator
✓
✓
✓
12.3
Geo Dashboard
Support a dashboard that provides location-based node monitoring
✓
✓
✓
12.4
Backup
Provide a backup function that includes the following methods:
- External Storage
- CIFS / NFS
- FTP / SFTP
✓
✓
✓
12.5
Role based Administrator
Control the level of access based on an administrator role to use certain functions and menus
✓
12.6
Management Scope
Control the scope of management for each administrator
✓
12.7
Change Tracking
Audit all administrators' settings and policy changes, including pre-change values
✓
✓
✓
12.8
Software Update
Verify the latest software changes through the management console and be able to perform the upgrade after downloading
✓
✓
✓
12.9
SNMP Support
Support SNMP to manage Genian NAC
✓
✓
✓
12.1
Two-Factor Authentication
Provide administrator authentication through two factor authentication
✓
✓
✓