Next-Gen Network Access Control for the IoT Era.
The Components of Genian NAC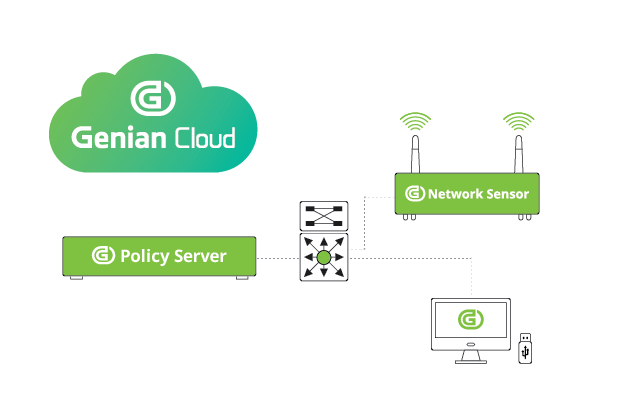 Uses L-2 based network sensors without adding complexity
Operates completely out-of-band
A brain (Policy Server) with two handymen (Network Sensor and Agent) can fortify your entire network without disrupting existing network configurations.
All components can go into a single server except the Agent. The Network Sensor can be separated from the Policy Server to manage remote sites and achieve extended Wireless visibility.
Agents can be used as Wireless Sensors as well.
Genian Cloud
Review and refine device platform information via the cloud
Deliver the most accurate up-to-date device platform information to Policy Server on a weekly basis
Policy Server
Establish security policies based on Node information collected by Network Sensors and Agents
Distribute established policies to Network Sensors and Agents
Communicate with Network Sensors and Agents to secure access control
Integrate with user database and third-party security solutions
Network Sensor
Collect Node Information from network
Apply (or enforce) established policies from Policy Server to targeted Node (or Node groups)
Detect all SSIDs by listening wifi signals
Identify who is accessing valid (enterprise-owned) APs, neighbor APs, or rogue APs
Support 802.1q Trunk Port
Agent (Optional)
Collect endpoint system information in detail
Execute policy enforcement as well as management tasks through the use of Plugins.
Operate as a Wireless Sensor to provide wider and more in-depth coverage to detect any possible Wifi activities such as Ad-hoc mode, SoftAP, and Tethering.