Genian NAC gives you Smart Visibility for your entire wired and wireless networks in the world of IoT.
Based upon the visibility, you can get a better control of all your network assets
and ensures them to be the highest level of security and compliance.

A brain (Policy Server) with two handyman (Network Sensor and Agent) can fortify your entire network without disrupting existing network configurations.
All components can go into a single box except Agent. (Agent can be used in case you want to manipulate endpoint device configuration, enforce policies, and use them as Wireless Sensor)
Network Sensor can be separated from Policy Server to manage remote sites and get extended Wireless visibility. Agents can be used as Wireless Sensor as well.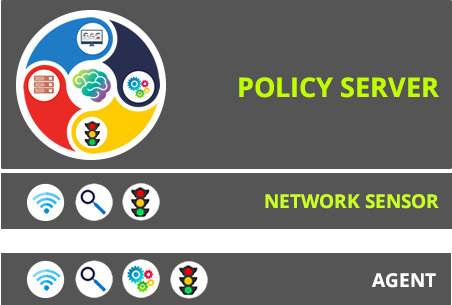 Main Features
Establish security policies based on Node information collected by Network Sensor and Agents
Distribute established policies to Network Sensor and Agent
Communicate with Network Sensor and Agent to secure access control
Integrate with user database and third-party security solutions
Deployment
Main Features
Collect Node Information from network
Apply (or enforce) established policies from Policy Server to targeted Node (or Node groups)
Detect all SSIDs by listening wifi signals
Identify who is accessing valid (enterprise-owned) APs, neighbor APs, or rogue APs
Support 802.1q Trunk Port
Deployment
The network sensor must be connected every broadcast domain. you can connect 802.1q trunk port for multiple VLANs.
Virtual machine can be used as a network sensor but it will not detect wifi-signals without configuring virtual wireless adaptor properly
Physical machine (e.g. Mini PC) can be used as a single network sensor
Main Features
Collect endpoint system information in detail
Execute various policy enforcement as well as management tasks through the use of Plugins.
Operate as a Wireless Sensor to provide wider and more in-depth coverage to detect any possible Wifi activities such as Ad-hoc mode, SoftAP, and Tethering around the device.
Installation
Agents can be installed in the following platforms
Windows: Windows XP+
Apple: OS X Snow Leopard+
Plugin Actions
Scan OS, Apps, Peripherals
Scan Monitor Properties
Scan Printer Properties
Scan Compliance Status
Scan Open Ports
Scan TCP Connection
Authenticate User
Check Windows Password
Change Computer Name
Configure Windows Settings
Configure Antivirus Settings
Deploy Files
Notify User
Control Power Option
Control Screenlock
Control External Device
Control File Folder Sharing
Control ARP Spoofing
Control DNS
Control Internet Options
Control Network Interface
Control WLAN Interface
Control Guest Account
Kill Process
Run Script
Run File Management Action