Genians' Next-Gen Network Access Control (NAC) combined with the 128 Technology Session Smart™ Router delivers a secure, software-defined network fabric and an enhanced cybersecurity stack to provide end-to-end visibility and access control across routers, while maintaining fast and reliable network services.


Service-centric Networking with Zero Trust Security Baked-in

The 128 Technology software-based networking solution is optimized for Enterprises, Service Providers, and Cloud Service Providers to deliver:
Simplicity: Tunnel-free solution removes reliance on yesterday's hardware centric networking
Agility: Quicker deployment model with application resiliency and improved performance
Security: Zero Trust Security, deny-all model with:

Authentication , Adaptive Encryption, and Hypersegmentation
Network Surveillance powered by Device Platform Intelligence + Endpoint Compliance Check, plus Multi-layered Policy Enforcement

Performance: High performance solution with reduced overhead, improved scalability, and dynamic optimization
Savings: Lower bandwidth and connectivity costs improve both CapEx and OpEx.

Deriving Intelligence from the Edge

Genians' Device Platform Intelligence (DPI) can leverage the full spectrum of 128 Technology's visibility into the endpoint level. This intelligence encompasses the following information:
The most accurate device platform identity
Contextual access information (Who, What, Where, When, How)
Business context related to device (e.g. EOL, EOS, Manufacturer Info)
Common Vulnerabilities and Exposures (CVE) for each detected device
Anomalies from inside the network
Analysis of security posture of applications, users, and data

Actionable Intelligence

With shared DPI and Genians' Node Grouping feature, the 128T Session Smart Router can enrich the profiling of all devices associated with users, data, applications, and services for granular policy management and access control.


Service and Compliance-Centric Automation and Analytics

Between Genians and the 128T Networking Platform, RESTful and Netconf APIs provide a full suite of integration capabilities with applications, orchestration, and automation tools. Fine-grained contextual analytics provide application and compliance insights that are exported to third-party big data and analytics solutions.
The Technology Stack from Genians and 128 Technology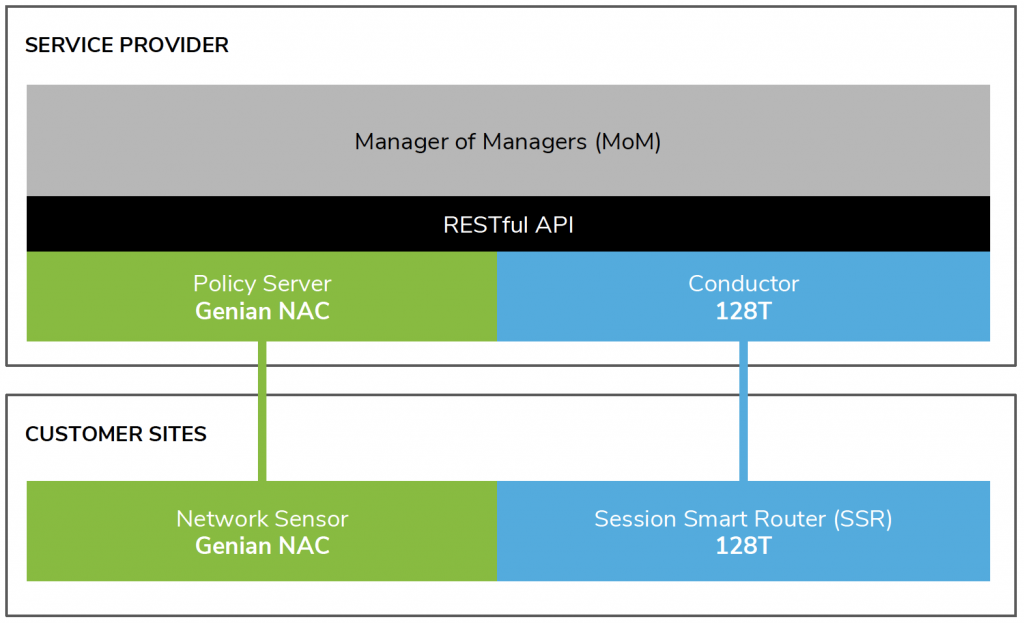 One-stop Services

Supports managing sites, users, licenses, subscriptions, and billing
Multi-tenancy

Use of Docker containers, making it easy to deploy the solution in any public or private cloud on a VM
A Single Box

Universal Customer Premises equipment (uCPE) can be used to combine Network Sensor with SSR
More Secure End-to-End Session over a Wide Area Network

Genians and 128 Technology can provide the most essential features for secure and reliable routing services from Layers 2 to 7. We can deliver the comprehensive solution as a service to your business as we can provide various deployment options.
Genian NAC
Network Surveillance
Network Access Control
Mobile, BYOD, Guest Management
IP Address Management
Switch Port Management
WLAN Security
Desktop Configuration Management
Network Security Automation
128 Technology Session Smart Router
Zero Trust Security
Application Aware Routing
Failsafe Service Delivery
Tunnel-free Performance
Service Centric Segmentation
Centralized Policy Management and Orchestration
Zero-touch Deployments
Application Visibility and Control