Being an IT manager is all about navigating uncertainty. Needing to stay on top of the latest tools, threats, and technologies is a full-time job in and of itself, to say nothing of needing to consistently monitor your network. With more and more devices accessing a corporation's network, establishing a sufficient security solution has never been more complex. What's the answer? What kind of security solution has the adaptability and scalability needed to address the multiple fronts you are constantly defending?
The solution, it turns out, is in the cloud. And it's a cloud-based Network Access Control (NAC).


Can I trust the cloud?

There is a nagging, lingering belief that the cloud is inherently less secure than a local solution. The idea that the cloud is less secure because it exists "out there" rather than on physical machines under your watchful eye is simply untrue. The cloud plays an integral part in your security and here is why: malicious actions are opportunistic rather than location based. What that means is, accessibility is the key factor, not the physical space the infrastructure occupies. If anything, the ongoing belief that a local system is more secure is based on the misguided belief you need to own the servers in a space under your control in order to ward off threats. We have seen that this is not the case.
Cloud-based solutions like Genian NAC offer the functionality you need to secure your network while providing other benefits that would only be possible through the Cloud. Here are some reasons why the Cloud has emerged as an advantageous platform for securing your network.


Authentication

It has already been stated that accessibility is the key issue when it comes to securing a network. With more devices than ever seeking to access your network through Wi-Fi, it's critical to have strong authentication measures in place. As we have seen in recent years, the simple login via password mechanism just isn't enough. A significant number of breaches are credentials based. Clearly, other policies need to be in place. Cloud solutions can enforce other methods of authentication. Whether it be analysis of user patterns, or limiting access based on device usage, a cloud-based security solution has a further reach than a local one.
Also, should anything suspicious occur, your NAC solution will alert you to it. This saves you time because as problems occur you will be made aware of them rather than actively having to monitor the network manually at all hours.


Current and Future

New issues present themselves at a fast rate and staying current with the proper security protocols is a challenge. Updating a local network manually can take time and resources that you simply don't have. It can also be put off until "a more convenient time." But every day spent with an old version of something is another day you're keeping yourself open to attacks. With a cloud-based solution like Genian NAC you know that your software updates are occurring automatically.
Cloud systems also take a global approach to securing your network. Threats can originate from halfway around the world. Your network security needs protocols in place that can not only region block for blanket protection but also intelligently collect and analyze trends as they occur. Being able to get ahead of an event by collecting data on global patterns and irregularities as they occur in another location can be what allows your security solution to protect you from what would have otherwise been a disastrous attack.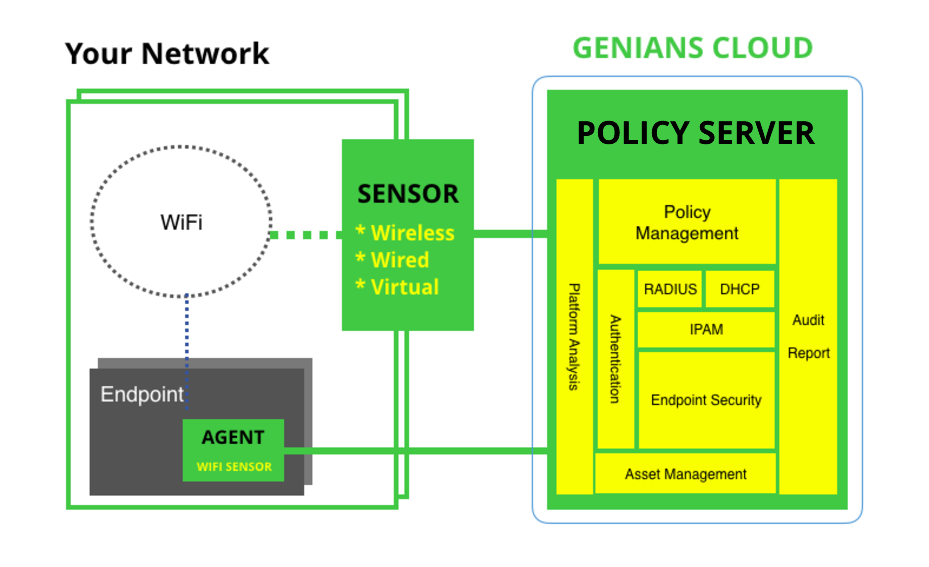 Here is what Genian NAC Cloud can do for that

Reduced IT Workload: Save time and resources through the cloud, which can maximize network security and IT operational efficiency.
Managed Security Operation

Deliver optimized security policy on time
Event-driven management (No more daily routine check)

Automated Maintenance

Maintain the latest version (System Software, OS Patch)
Generate alerts, notifications, and reports effectively
Scalability, High Availability

Security Consumerization

Simplified and easy-to-use security solution
SME and MSP-friendly
Sustainable & Predictable Budget: Move budgets from capital expenses to operating expenses while paying less overall cost for Network Security and IT Management
Monthly or yearly subscriptions

Starting from $0.20 per device / per month
30 Days free

One stop shopping service through GENIANS.COM

Subscriptions
Sensors
Advanced Support
Accessories
Conclusion

Genians provides firms with the enterprise-class, next generation cloud-based NAC solution they need to monitor and secure their network. The most vigilant IT manager can't keep an eye out twenty hours a day and seven days a week. With Genian NAC Cloud solution, you can rest assured that your network will always be monitored and you'll be alerted in the event of an issue.