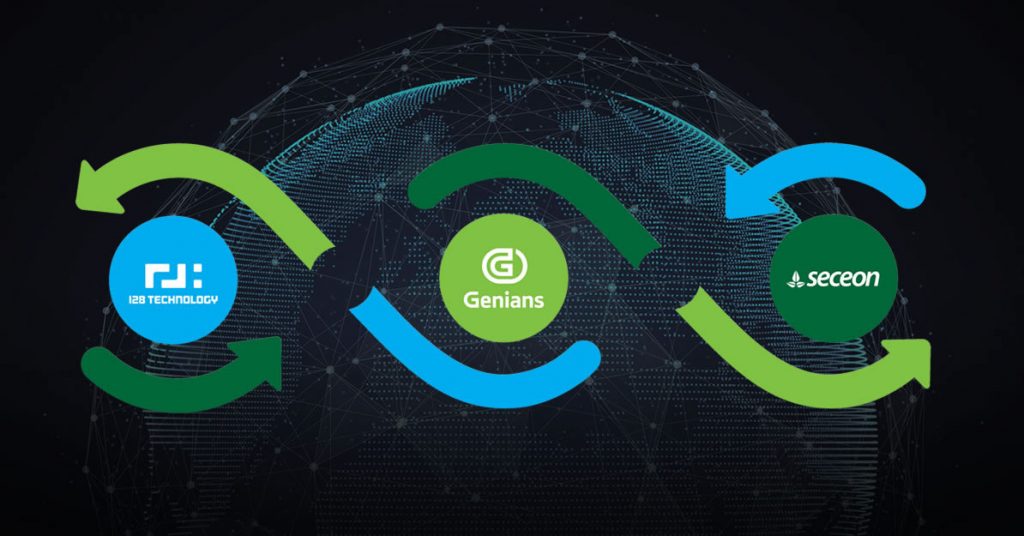 Genians will showcase

integrated

solution at RSA Conference March 4 to 8 in San Francisco


North Andover, Mass. – March 1, 2019 – Genians, the industry leader of Next-Gen Network Access Control (NAC) solutions, today announced that it is collaborating with 128 Technology, the leader in Session Smart™ routing, and Seceon, which pioneered the first fully-automated, real-time cyber threat detection and remediation solution, on its next-generation network access control (NAC) solution. The partnership leverages the 128T Session Smart Router and Seceon's machine-learning and aritificial-intelligence based security information and event management (aiSIEM™) solution to expand Genian's NAC capabilities, helping to further secure the WAN and mitigate cyber-attacks from inside and out of the enterprise.

128 Technology offers a unique approach to SD-WAN which evolves the network into a service-centric fabric that's simpler, more agile and secure for the connected enterprise.

Seceon's machine learning-based SIEM solution provides proactive threat detection and actionable intelligence for automatic threat containment and elimination to mitigate network threats real-time. It empowers Enterprises and MSSPs to analyze operational security data, manage threats and vulnerabilities, and respond to security incidents in real-time providing zero- trust comprehensive security for an enterprise in a digital era.

Genians' Next-Gen NAC solution, powered by Device Platform Intelligence (DPI), enables customers to advance their cybersecurity capabilities by surveilling all IP-enabled devices holistically and controlling their network access dynamically. Out of the box, Genians Next-Gen NAC includes all critical network access control features and can be primarily delivered via on-premises or via cloud-managed options.

It can also be leveraged by managed service providers (MSPs) for the following:
Network Surveillance
Network Access Control
Mobile, BYOD, Guest Management
IP Address Management
Switch Port Management
WLAN Security
Endpoint Configuration Management
IT Security Automation
"Today's IoT era demands advanced network security measures to protect against the latest network threats. The traditional way of achieving network visibility through device fingerprinting is no longer sufficient to meet enterprise needs," said Kyeyeon Kim, Co-founder/CTO, Genians. "Our collaborative solution with 128 Technology and Seceon will help enterprises and MSPs to better secure the WAN and provides greater real-time intelligence to mitigate attacks."
Genians will showcase the solution at RSA Conference 2019 in San Francisco from March 4 through 8 at booth 6564 (North Hall). Attendees may stop by the conference to learn more about the solution and view a demo.
About Genians
Over 14 years, Genians (KOSDAQ: 263860) delivers the industry's leading Next-Gen Network Access Control solution, which surveils all connected devices holistically and ensures they are operating at the highest levels of security and compliance. Genians secures millions of various endpoints in organizations of all sizes and industries, including global Fortune 500 companies, the government, the military, energy, finance, healthcare, education, and more. Genians keeps working to build a better security culture in the connected world by teaming up with community and industry leaders around the world.
About 128 Technology
128 Technology makes your network do what your business needs, by changing the way networks work. Our professional grade software teaches routers the language of applications and services, letting them understand the requirements of individual services and segments, and adapt the network dynamically to deliver what the business needs, when and where it needs it. We make routers Session Smart™, enabling enterprise customers and service providers to create a service-centric fabric that's more simple, agile, and secure, delivering better performance at a lower cost.
To learn more about 128 Technology, visit www.128technology.com and follow the company on Twitter, LinkedIn and Facebook.
About Seceon
The combination of Seceon's Dynamic Threat Model (DTM), machine learning, AI with actionable intelligence for proactive threat detection of known or unknown threats, and automated containment/elimination, empowers Enterprises and MSSPs to provide "Comprehensive Cybersecurity For Digital-Era", collecting intelligent raw data (streaming logs, netflows, identities), threat intelligence and processing it through Seceon's Open Threat Management (OTM) platform to provides comprehensive visibility of users, hosts, applications, services — proactively surfacing relevant threats in real-time for actionable intelligence to automatic and/or push-of-a-button containment/elimination of threats with fine grain granularity. aiSIEM and aiMSSP are solutions born out of the OTM platform.
To learn more, please visit www.seceon.com or call (978) 923-0040 and follow the company on Twitter, LinkedIn and Facebook.