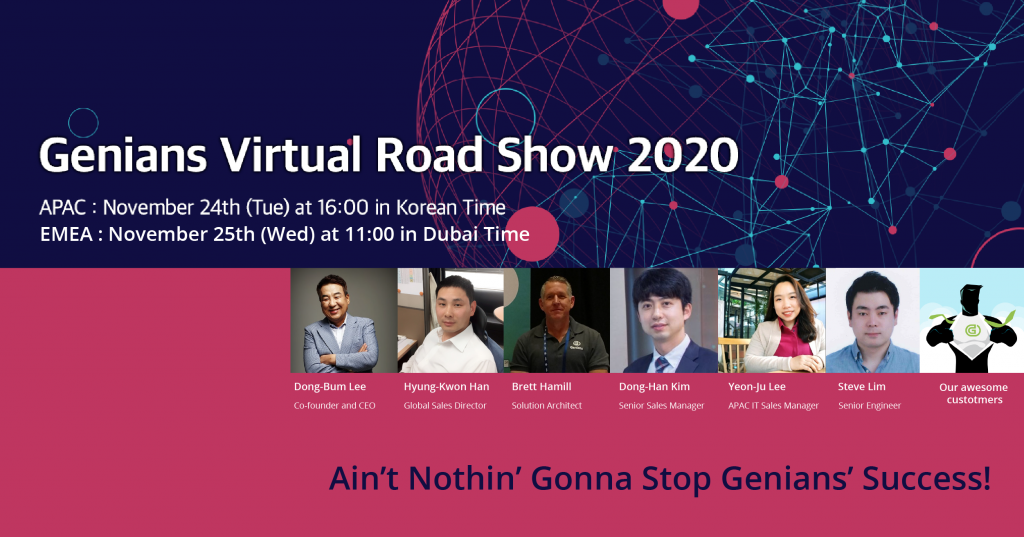 North Andover, Mass. – November 12th, 2020 – Genians, a leader in Next-Gen Network Access Control (NAC) technology, announced today it will be hosting its first virtual roadshow event for its global customers on November 24th and 25th, 2020. Over the past three years, thanks to the diligent efforts of our hardworking partners, Genians has seen increasing demand for our NAC product across the APAC and Middle East markets. This has resulted in the rapid gain of many new customers from multiple verticals. To share our great success and what we have learned from our journey with more of our customers, Genians will conducting a virtual roadshow:
Date/Time
Nov 24th, 4 pm in Korea time (For Genians partners in APAC)
Nov 25th, 11 am in Dubai time (For Genians partners in the Middle East)
Topics
Genians' achievements in the global market
Fighting emerging cybersecurity threats by leveraging Genians Next-Gen NAC capabilities
"Genian NAC in a nutshell" to maximize your sales, profits, and customer satisfaction.
"As we all know, most businesses are struggling to survive and in-person meetings are on pause due to COVID-19. Nevertheless, Genians has been growing dramatically by working with our partners around the world and introducing remotely-managed NAC deployment options. I am so pleased we have time to engage with our global partners and customers before this challenging year comes to a close," said Genians' Co-founder & CEO, Dong-Bum Lee.
"Indeed," Lee continued, "As we move forward into the new year and begin the next phase of our growth efforts, we will look to convene further events on a face-to-face basis for our customers in North and South America and in the European market once it is safe to do so."
To learn more about this event or become a Genians customer and partner, please contact apac@genians.com
Genians (KOSDAQ: 263860) provides the industry's leading Network Access Control solution, which helps maintain full visibility and control of all your network assets and ensures they are operating at the highest levels of security and compliance. Genians secures millions of various endpoints in organizations of all sizes and industries, including global Fortune 500 companies, the government, the military, energy, finance, healthcare, education, and more. Genians keeps working to build a better security culture in the connected world by teaming up with community and industry leaders around the world.