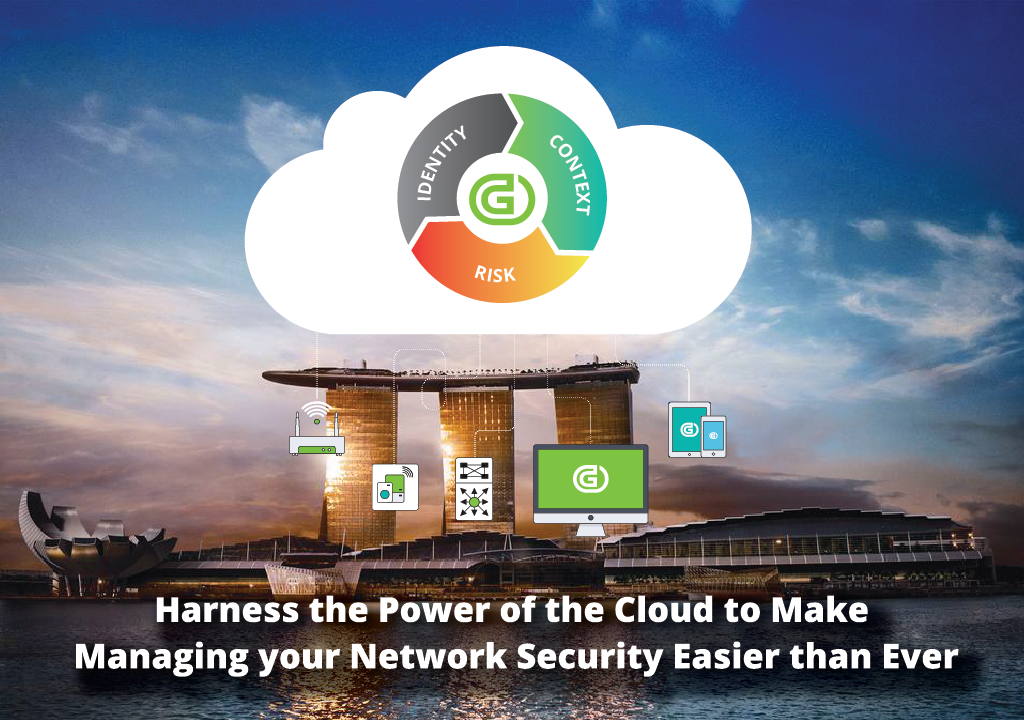 Meet Genians' Next-Gen Network Access Control Solution in Singapore

North Andover, Mass. – October 08, 2018 – Genians, the industry leader of innovative Network Access Control (NAC) solutions, announced today it will be attending the Cloud & Cyber Security Expo. This will mark Genians' return to the Singapore conference for the second year in a row, held this year from October 10-11.
Genians has been making great strides over the past few years in the South Asian market. Recently it was honored to have the company's flagship product, Genian NAC, chosen for deployment by the region's largest airline company, a major higher education institution, along with enterprises and governments alike, as Genian NAC has established itself as an effective and economical solution for meeting the specific IT security compliance requirements of organizations of all sizes.
As Gartner pointed out recently in their July 2018 Market Guide for Network Access Control "network visibility (discovering and identifying devices attached to the network) continues to be the primary driver for NAC." Genians' founder and CTO Kyeyeon Kim adds that "our solution provides the most accurate platform information in the marketplace today, combining technology-specific with business context and risk-related information holistically. It does so for all network-enabled devices without disturbing or interrupting the operations of any existing network systems' infrastructure. Many organizations around the world are interested in using Genians' Device Platform intelligence to build more granular IT policies to secure their network infrastructure and provide enhanced network access control services."
Genians' customers have also demonstrated an interest is maintaining the full range of essential IT management features, such as network surveillance, network access control, IP Address Management (IPAM), remote desktop configuration management, complete security control over Wi-Fi access, automated IT security operation, IT asset management, and much more.
Genians' proven NAC technologies and services have been embraced by over 1,100 customers around the world. As the first NAC vendor that can really deliver enterprise-grade NAC solutions through the Cloud, Genians can help improve the cyber-defense profile of any size business, including small-to-medium enterprises. This approach is also appealing to MSP/MSSP vendors seeking to deliver NAC as service to their customers.
Please visit us to see Genians' Next-Gen Network Access Control solution in action. We believe you'll find its advanced device platform intelligence capabilities, powered for the rapidly emerging IoT era, to be highly compelling. Not planning to attend the Cloud & Cyber Security Expo? Just visit our website anytime to get started with a free trial.
About Cloud & Cyber Security Expo 2018
Master the skills to navigate the depths of the dark web and cyberthreats at Cloud & Cyber Security Expo 2018. This year, you can expect an enhanced show content featuring over 30% more exhibitors and technology innovators, hundreds of world-class expert speakers across 19 theatres plus hundreds of real-life case studies focusing on key sectors like Critical Information Infrastructure, Finance, Healthcare, Transport, Retail, Public Sectors to name a few, featuring hot-button topics like Cyber Threat, Incident Response & Resolution, Risk Management, Compliance and more.
About Genians
Genians (KOSDAQ: 263860) provides the industry's leading Network Access Control solution, which helps maintain full visibility and control of all your network assets and ensures that they are operating at the highest levels of security and compliance. Genians secures millions of endpoint connections in organizations of all sizes and industries, including global Fortune 500 companies, the government, military, energy, finance, healthcare, education, and more. Genians keeps working to build a better security culture in the connected world by teaming up with community and industry leaders around the world.