North Andover, Mass. – December 18, 2018 – Genians, the industry leader of innovative Network Access Control (NAC) solutions, announced today that it has been selected to receive the "Network Access Control Solution of the Year Award" by Security Award Korea 2018.
The Award, given by leading Security News media Security World and Boan News, recognizes the industry's leading security solutions providers from 24 different domains, including Smart Home, Endpoint Detection and Response (EDR), Security Operations Center (SOC), Mobile Security, Network Access Control, Web security, Password Management, and Visual Hacking.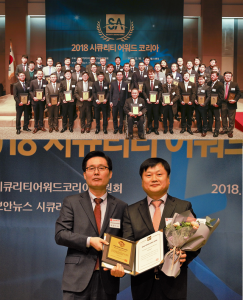 As Genians' President Kyeyeon Kim commented, "Having developed our NAC business successfully over the past 13 years, we now have more than 1,200 customers using our solution in various verticals, from government to larger enterprises, financial institutions, and healthcare – customers requiring the highest levels of security compliance. By leveraging cloud technology, we are able to deliver our enterprise-grade NAC solutions to businesses of any size. This allows us to share our proven technology and services with any organization, anywhere in the world, struggling to meet today's cybersecurity challenges. As the number 1 NAC solution provider, our successful business history has led to our achieving this milestone. Working with our business partners in 18 countries, our plan is to continue to grow this success at a global level."
Genians' Next-Gen Network Access Control solution is prepared to meet the increasingly demanding cyber defense needs of the IoT era. We provide the essential features required by IT organizations as they face these new challenges in the most innovative and economically attractive ways. You can meet Team Genians in person at both the upcoming RSAC 2019 and Infosecurity Europe conferences. Otherwise, you can always visit us online at Genians.com to start exploring our NAC solution's Next-Gen capabilities for your business right away.
About Genians
Genians (KOSDAQ: 263860) provides the industry's leading Network Access Control solution, which helps maintain full visibility and control of all your network assets and ensures that they are operating at the highest levels of security and compliance. Genians secures millions of endpoint connections in organizations of all sizes and industries, including global Fortune 500 companies, the government, military, energy, finance, healthcare, education, and more. Genians keeps working to build a better security culture in the connected world by teaming up with community and industry leaders around the world.