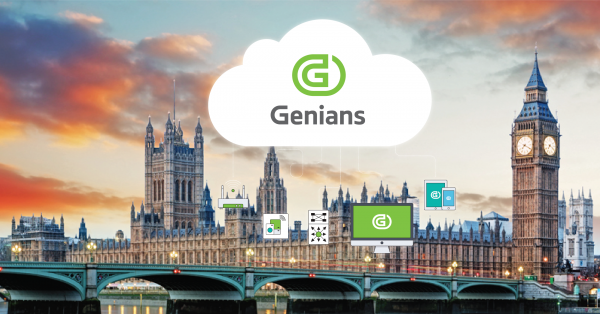 Genians introduces the most affordable and sustainable Next-Gen NAC for the IoT era

North Andover, Mass. – May 29, 2019 – Genians, the industry leader of Next-Gen Network Access Control (NAC) solutions, announced today it will be attending Infosecurity Europe 2019 in London from June 4 through 6. Today's IT security managers face a daunting challenge: how best to maintain effective network security from Edge to Cloud while simultaneously supporting business productivity. The most critical cybersecurity issues occur at the network's Edge but monitoring and controlling all Edge activities are far from simple due to ever-evolving, highly dynamic network environments and the new business demands presented by BYOD and IoT. To counter these challenges, next-generation Network Access Control (NAC) capabilities are required to keep network assets safe and secure.
As Genian's CTO Kyeyeon Kim notes, "traditional NAC approaches such as 802.1x-based, switching integration, and agent-based NAC are no longer adequate in the IoT era. Indeed, legacy NAC solutions are very expensive and difficult to maintain in today's network environment. At the same time, NAC's primary role – network visibility and access control – is becoming ever more critical." As an industry leader, Genians has revamped its enterprise-grade NAC by leveraging Cloud technology for businesses of all sizes, including SME's, which struggle with technical challenges and budgetary issues.
With Genians' Next-Gen NAC powered by Device Platform Intelligence (DPI), organizations can advance their cybersecurity capabilities by surveilling all IP-enabled devices holistically and controlling their network access dynamically.
Next-Gen Network Visibility and Endpoint Compliance is the Key to Cybersecurity
The traditional approach to achieving network visibility through device fingerprinting is no longer sufficient to meet the demands of the IoT era, where most devices now access networks that are constantly changing. Genians' network sensing technology powered by DPI discovers and presents all detected devices' business contextual and risk-related information along with their technical information without disturbing existing network infrastructure. The resulting intelligence enhances visibility and allows operators to detect and respond to any non-compliant or compromised devices in real time.
Next-Gen NAC Delivery for your Business
Out of the box, Genians Next-Gen NAC includes all the essential features to fortify your cybersecurity framework fundamentally. It can be delivered via both On-premises or Cloud-managed options with an affordable pricing model. Genians' NAC-as-a-Service model is also available to be leveraged by Managed Service Providers (MSPs).
Genians Next-Gen NAC has Evolved with SD-WAN and AI-based SIEM
Genians has collaborated with two industry-leading vendors: 128 Technology, which secures SD-WAN using their own unique approach, "Session Smart Routing," and Seceon, which provides a machine learning-based SIEM solution. This collaboration extends Genians' Next-Gen NAC capabilities to encompass securing the WAN and enriches the intelligence needed to mitigate both internal and external cyber attacks.
Of course, seeing is believing, so please stop by Genians' booth L42 to meet our team and discover solutions that will help you build fundamental capabilities to address your major cybersecurity challenges. Not planning to attend the conference? Visit our website anytime to get started with free trials.
About Genians
Over 14 years, Genians (KOSDAQ: 263860) delivers the industry's leading Next-Gen Network Access Control solution, which surveils all connected devices holistically and ensures they are operating at the highest levels of security and compliance. Genians secures millions of various endpoints in organizations of all sizes and industries, including global Fortune 500 companies, the government, the military, energy, finance, healthcare, education, and more. Genians keeps working to build a better security culture in the connected world by teaming up with community and industry leaders around the world.
About Infosecurity Europe
Strategically held annually in London, Europe's centre for technology start-up businesses, Infosecurity Europe is Europe's largest and most comprehensive Information Security event. Featuring numerous analysts, policy experts, journalists and over 400 exhibitors, Infosecurity Europe presents an invaluable business platform, as well as staging the world's largest complimentary conference programme containing 240+ free to attend conference sessions which have been accredited by leading industry associations (ISC)² and ISACA since 2012. The event attracts over 19,500 unique information security industry professionals attending from every segment of the industry and presents the most important date in the calendar for information security professionals across Europe. www.infosecurityeurope.com. @Infosecurity #infosec