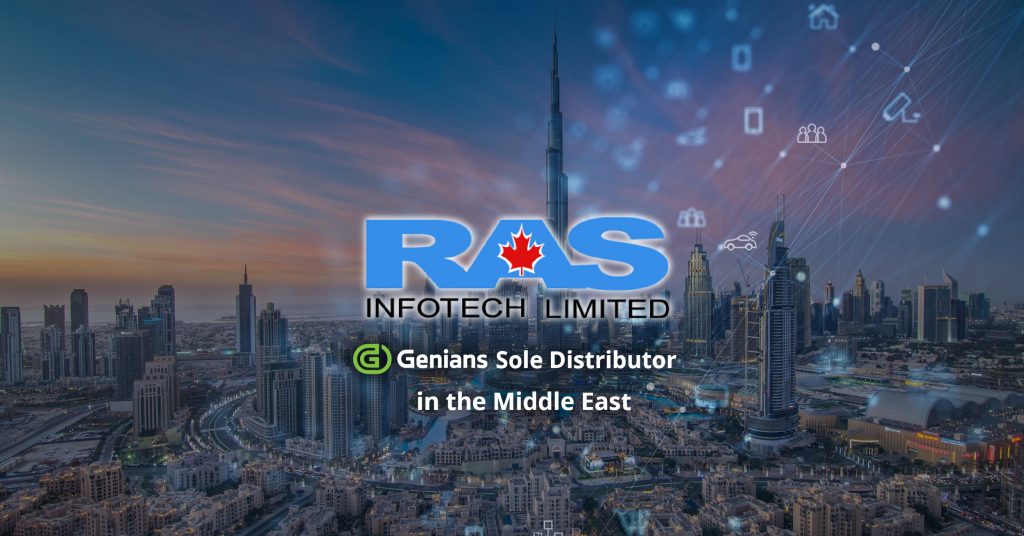 San Jose, CA., March 12, 2021 – Genians, a leader in Next-Gen Network Access Control (NAC) technology empowered by Device Platform Intelligence (DPI), announced today that its partner RAS Infotech, a leader in providing state-of-the-art IT security solutions, has become Genians' sole distributor in the Middle East.
Since 2000, RAS Infotech Limited, Dubai, has delivered first-in-class cybersecurity solutions as a Value-Added Distributor (VAD) for the Middle East, India, and Southwest Asian markets. Among today's many enterprise security solutions, NAC has become an essential element in cyber-defense portfolios. For RAS Infotech, however, finding the right tool to satisfy their partners' and customers' expectations was not a simple proposition. Many NAC contenders offered solutions that simply failed to meet market needs on multiple counts: some offered limited deployment options, while presenting high maintenance demands and a lack of scalability. Others required too many dependencies on existing network infrastructure, for example, switch integration, while delivering poor agent performance at network endpoints. Taken together, these issues made it challenging to deploy NAC. As a result, RAS Infotech needed to find an alternative solution.
They found what they needed, finally, in 2018 – via a Google search! Unlike other NAC vendors, Genians provided free trials, full documentation, and free online support quickly and easily. It was therefore a simple matter to test and verify the product's features and functionality. The initial PoCs turned out flawlessly. At the same time, licensing and pricing structures were clear and transparent. Finally, to address the greater demands being placed on Next-Gen NAC as a result of the rise in BYOD/IoT initiatives, Genians' NAC was found to meet the market's needs.
As RAS Infotech CEO Akram Khazi recently noted: "We selected Genian NAC from other NAC solutions in the market because right 'out of the box,' without disturbing existing network infrastructure, it provided our partners and customers with a full range of Next-Gen NAC capabilities – including device fingerprinting along with more comprehensive information such as EoL/EoS, CVE, Network visibility, Multi-layered policy enforcement, BYOD & Guest Management, IPAM, Switch Port Management, WLAN Security, and Endpoint Configuration Management."
"Beyond that," Akram continued, "Genian NAC comes with built-in RADIUS, DHCP, and Syslog servers at no additional cost. Importantly, Genian NAC works as a hub by orchestrating other solutions in an automated fashion. This results in no more IT security silos, period. Genian NAC can also be delivered via several flexible deployment options: On-prem, Cloud-Managed, or NAC-as-a Service. Overall, I can meet my partner's and customers' specific business requirements effectively and economically."
"As we know Genians more and more," said Akram, "we realized that it is not a typical NAC vendor, since they also cover other solutions like Endpoint Detection and Response (EDR), Software Defined Perimeter (SDP), Zero Trust Security, and even 5G. It seems Genians is packaging several key advanced technologies into a single platform in order to secure the edge in the most efficient way. We are excited to see what is coming next!"
Dong-bum Lee, Co-founder/CEO commented: "We find in RAS Infotech a great partner who can amplify our success in the Middle East. RASInfotech has been outperforming to introduce Genian NAC into new markets and has made a great success so far. No doubt they will bring us further success by taking on this new role. Team Genians will work continuously with RAS Infotech to make our mutual journey rewarding. Inshallah!"
Any organizations interested in Genian NAC in the Middle East, please contact RAS Infortech.
RAS Infotech Limited, Dubai, was established in 2000 with its office in Dubai Internet City with the sole objective of providing complete Network Security and Network Management Solutions for the Middle East. In the 15+ years since its founding, RAS has won more than 1,000 satisfied clients. It is to the credit of its sales and support teams and consulting professionals that these clients have renewed their faith in RAS year after year.
Genians (KOSDAQ: 263860) provides the industry's leading Network Access Control solution, which helps maintain full visibility and control of all your network assets and ensures they are operating at the highest levels of security and compliance. Genians secures millions of various endpoints in organizations of all sizes and industries, including global Fortune 500 companies, the government, the military, energy, finance, healthcare, education, and more. Genians keeps working to build a better security culture in the connected world by teaming up with community and industry leaders around the world.