Genians Reimagines Network Access Control for the IoT Era
North Andover, Mass. – Apr 12, 2018 – Genians, the industry leader of innovative Network Access Control (NAC) solutions, announced today it will be attending the RSA Conference 2018 in San Francisco from April 16 through April 20, 2018.
An established provider in the critical area of Network Access Control technology, Genians has a track record of over 13 years of securing larger enterprise, government, and institutional networks with its superior cyber defense framework. The benefits offered by Genians are now available to enterprises of all sizes and types via its Cloud-managed NAC solution set.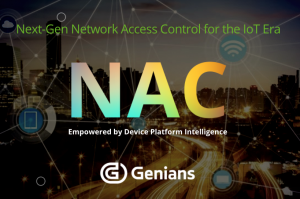 As networks becoming increasingly complex in this age of multi-cloud, hybrid infrastructure environments and with the rapidly growing deployment of IoT devices, the role of NAC is becoming ever more important in order to protect enterprises from the risks associated with rogue and unknown devices joining their networks. Genians delivers all-in-one solutions that encompass both IT security and operations management more effectively and which also mitigate IT/OT convergence challenges. In this highly vulnerable time, Genians differentiates itself from the competition in three critical areas in particular:
Device Platform Intelligence: No matter what, the importance of network device visibility is paramount. Genians provides the device intelligence needed to go beyond mere device fingerprinting. It provides detailed technical and business contextual information for all IP-enabled devices holistically. This includes everything from when a device will be going end-of-life to its specific security profile and business functions served.
Cloud-Managed NAC: Genians' enterprise-grade NAC can be delivered through the Cloud. Major IT security and operational features are all included in a single cloud footprint. Simply subscribe to take advantage of the following critical access control features:
Genian NAC is also available for on-premises deployment. With Genians you can choose the delivery option that best meets your needs.
Ready for MSSPs: Great news for MSSPs! With Genians' MSP offerings, you can maximize the benefits of NAC for your hosting customers. This highly convenient packaged offering not only provides our full set of features in "NAC-as-a-Service" format, but also the convenience of automated maintenance, billing, customization, and integration services.
Please stop by Genians booth #3237 and experience Genians NAC for your particular business size and needs. Not planning to attend RSAC? Visit our website anytime to get started with free trials.

About Genians

Genians (KOSDAQ: 263860) provides the industry's leading Network Access Control solution, which helps maintain full visibility and control of all your network assets and ensures they are operating at the highest levels of security and compliance. Genians secures millions of various endpoints in organizations of all sizes and industries, including global Fortune 500 companies, the government, the military, energy, finance, healthcare, education, and more. Genians keeps working to build a better security culture in the connected world by teaming up with community and industry leaders around the world.