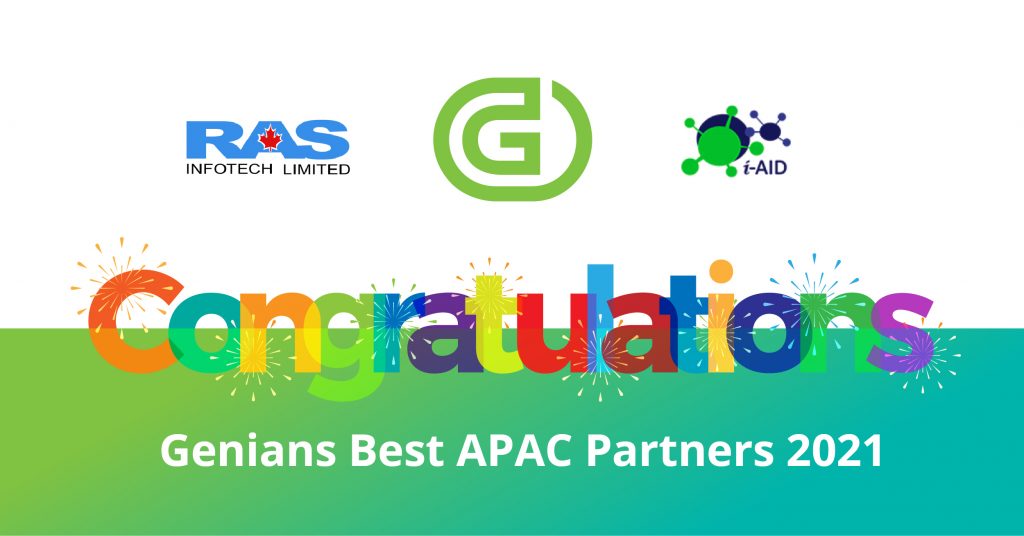 San Jose, CA.,  March 16, 2021 – Genians, a leader in Next-Gen Network Access Control (NAC) technology, announced today that RAS Infotech, its sole distributor in the Middle East, and Information Assist In Defense Inc. (iAID), its reseller in the Philippines, have each been awarded Genians' "Best APAC Partner of the Year" during its APAC Partner Day 2021 event.
Since 2005, Genians has driven significant business growth by working with multiple partners around the world. Indeed, whenever Genians has stepped into new verticals or entered new regions, partners have always helped us move our business to the next level.
As Dong-bum Lee, Genians' Co-founder and CEO, notes: "We have been very lucky to have such excellent business partners to work with in developing new markets. However, luck alone is never enough. We have to maintain transparent sales, marketing, and support policies. These are absolutely critical to maintaining Genians' high standards of performance and success in the marketplace. As we look to the future, we will work to replicate this winning combination through the addition of even more strong partners. In the meantime, our most hearty congratulations to RAS Infotech and iAID for their patience, understanding, and accomplishments."
iAID Managing Director, Mira Eustaquio, further commented: "Genians really is a diamond in my region. In successfully changing the NAC paradigm, they have helped us to meet my clients' expectations quite nicely. Genians not only delivers excellent NAC solutions but also an outstanding support system. There are of course other good products in the marketplace, but with Genians both pre- and post-sales support stands out. They are a cut above the rest."
As RAS Infotech CEO Akram Khazi put it: "We have dealt with other, major NAC products, but Genians NAC is the one that allows us to fully convince our partners and customers. It also becomes clear to them that Genians is not a typical NAC vendor; they are able to optimize essential cybersecurity solutions by leveraging advanced technology like Endpoint Detection and Response (EDR), Software Defined Perimeter (SDP), Zero Trust Security, and even 5G. We are excited to see what is coming next!"
Kyeyeon Kim, Genians' Co-founder and CTO, added that "Genian NAC has worked as an effective communication tool for listening to industry challenges via our partners and customers. This helps us in putting the shine on our brief and vision." As Akram and Mira attest, Team Genians continues to do its best to deliver a top-notch cybersecurity platform to secure the network edge.
Genians works continuously with its global partners to create ever more success. Organizations interested in joining the Genians journey simply need to contact us:
RAS Infotech Limited, Dubai, was established in 2000 with its office in Dubai Internet City with the sole objective of providing complete Network Security and Network Management Solutions for the Middle East. In the 15+ years since its founding, RAS has won more than 1,000 satisfied clients. It is to the credit of its sales and support teams and consulting professionals that these clients have renewed their faith in RAS year after year.
iAID is a Filipino owned privately held company registered with the Securities and Exchange Commission last June 27, 2017 with its corporate address in the Ground Floor of R&L Center, 1695 Baler Street in Makati City. Founders and Directors of iAID have a combined professional experience of more than 750,000 Hours in the ICT Space that extends from the late 1980's and up to the present. iAID is primarily engaged in the business of Information Security, providing cutting-edge solutions and timely services to various ICT Security challenges in today's network infrastructures whether wired or wireless.
Genians (KOSDAQ: 263860) provides the industry's leading Network Access Control solution, which helps maintain full visibility and control of all your network assets and ensures they are operating at the highest levels of security and compliance. Genians secures millions of various endpoints in organizations of all sizes and industries, including global Fortune 500 companies, the government, the military, energy, finance, healthcare, education, and more. Genians keeps working to build a better security culture in the connected world by teaming up with community and industry leaders around the world.